Our boarding guests have a daily routine that helps them feel  comfortable and adjust quickly. Wake up, potty outside, breakfast, rest, and then they participate in the full day of daycare activities.   At the end of the day they have dinner, potty outside, time to relax, and bedtime. At night, the dogs are tucked safely inside.  A staff member stays on the premises overnight, giving comfort to the dogs, and a peace of mind to the parents.
Boarding drop off hours are Monday-Friday 7-11am, and Saturday-Sunday 8-10am.  Morning drop off allows the dogs to get settled in for the day. However, we can accommodate afternoon drop offs if needed. 
On the day of check out, if you pick up before 10am, there is no charge for that day.  If you pick up by 6pm, there is a $22  "daycare after boarding" charge (per dog) for that day.
Where do the dogs sleep? We have 8 rooms/areas where the dogs sleep. Each night the dogs are separated into sleeping areas based on their individual needs and preferences. The areas have either a couch, dog bed, or blanket for their comfort.  We also have a variety of crates for dogs who prefer to be in a crate, or parent request for a crate. 
We ask that meals are brought  in  individual baggies per meal.  
Where do the dogs eat? Dogs are fed one at a time in our kitchen. Each dog has a locker in the kitchen that holds their food and any medication, which is provided by the parent. We can not take rawhide treats. We use our own bowls, and have a refrigerator, freezer, and microwave if needed.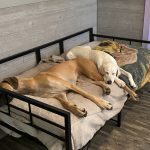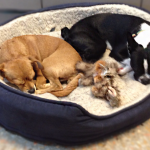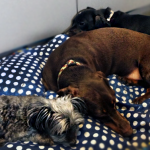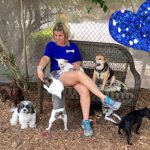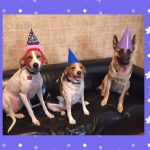 Monday-Friday
7:00-11:00am and 3:00-6:00pm
Weekend Hours
Saturday and Sunday....8:00-10:00am and 4:00-6:00pm